Welcome
The scientific interests in the Vertes Research Group span from fundamental studies in analytical and physical chemistry to the development of new technologies for biomedical analysis. Recent accomplishments include the discovery of photonic ion sources based on columnar nanostructures, the introduction of a new ambient ion source called laser ablation electrospray ionization (LAESI), metabolic imaging of biological tissues under native conditions and the in situ mass spectrometric analysis of single cells.
Research highlights
1 - Laser induced silicon microcolumn arrays (LISMA) exhibit nanophotonic properties and unique fragmentation patterns that are adjustable by the laser fluence, and simultaneously produce high and low energy fragments.
2 - Laser ablation electrospray ionization (LAESI) is a new atmospheric pressure ion source for mass spectrometry. LAESI enables the direct analysis tissues, cells and other water containing samples.
3 - Silicon nanopost arrays (NAPA) can be tailored to exhibit resonant ion production. Ion yields from posts with subwavelength diameter show sharp resonances at high aspect ratios.
4 - Phase Doppler anemometry reveals that droplet size and velocity distributions in electrosprays are strongly dependent on the spraying mode that, in turn, is determined by the liquid flow rate and the spray voltage.
5 - Laser ablation electrospray ionization (LAESI) mass spectromtry enables the atmospheric pressure molecular imaging of biological tissues. The LAESI image of a rat brain coronal section shows the distribution of specific lipids.
7 - Nanopost array (NAPA) chips with different periodicities on a silicon wafer exhibit unique optical properties. Excited by laser radiation, they behave as nanophotonic ion sources.
8 - Single cell analysis by laser ablation electrospray ionization (LAESI) mass spectromtry produces rich spectra with over 100 ionic species. Numerous metabolites and lipids can be identified.
9 - Fast photography of electrospray mensci reveals the relationship between spraying modes and ion production in electrospray ionization. Dramatic changes in the droplet size distributions result from the various ejection and breakup mechanisms observed.
Recognitions
Sylwia Stopka receives a 2014 MSDG Young Investigator Travel Award. On 5-19-2014, the Washington-Baltimore Mass Spectrometry Discussion Group selected Sylwia Stopka, a graduate student in the group, for a travel award. The financial component of the award helped her to attend the 62-nd ASMS Conference on Mass Spectrometry and Allied Topics in Baltimore, MD, where she gave an oral presentation entitled "Metabolic Response to Altered Light Conditions in Genetically Modified Chlamydomonas by LAESI Mass Spectrometry with Ion Mobility Separation."

First and second prize in Undergraduate Natural Sciences at GW Research Days. On 4-1-2014, undergraduate students Emmeline Ha and Daniel Foreman swept the Undergraduate Natural Sciences: Cellular/Molecular category at the GW Research Days 2014. Emmeline's first place poster was titled "Revealing the binding properties behind copper(II)'s anti-aggregative effect on human amylin," whereas Dan placed second with his poster "Comparative Metabolic Profiling of Single Plant Cells by Capillary Microsampling and Electrospray Ionization Mass Spectrometry."

Prof. Vertes elected Fellow of the National Academy Inventors. On 12-11-2013, GW Today reported on Dr. Akos Vertes' election as a Fellow of the National Academy of Inventors. On December 18, 2013, this was followed by a GW press release through Newswise.

Aparna Sajja awarded 2013 Goldwater Scholarship. On 5-3-2013, GW Today reported on Aparna Sajja, an undergraduate student in our group, winning the prestigious Goldwater Scholarship.

Prof. Vertes receives 2012 Hillebrand Award. Dr. Vertes was awarded the 2012 Hillebrand Award by The Chemical Society of Washington section of the American Chemical Society. The announcement was made in the March 2013 issue of The Capital Chemist, a publication of CSW.

Tarek Mansour recieves CSW Award. On 2-13-2013, Tarek Mansour, an undergraduate in the group, received the College Chemistry Achievement Award from The Chemical Society of Washington, the local chapter of the American Chemical Society. Tarek's research focused on exploring metabolic pulse-chase analysis using LAESI mass spectrometry.

LAESI DP-1000 receives the North American Bioanalytics New Product Innovation Award. On 7-17-2012, the North American Bioanalytics New Product Innovation Award was given by Frost & Sullivan for the LAESI DP-1000 system that was built based on our invention by Protea Biosciences Group, Inc. The explanation for the award decision stated that the "...pioneering LAESI DP-1000 Direct Ionization System is set to be a key enabling technology for breakthroughs in research, diagnostics and medicine." Frost & Sullivan announced the news through PRNewswire.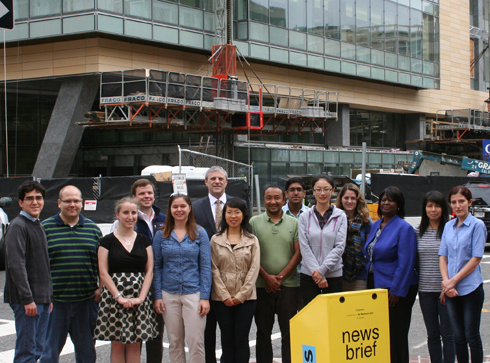 On the cover